Ultimate Dance Legacy Classes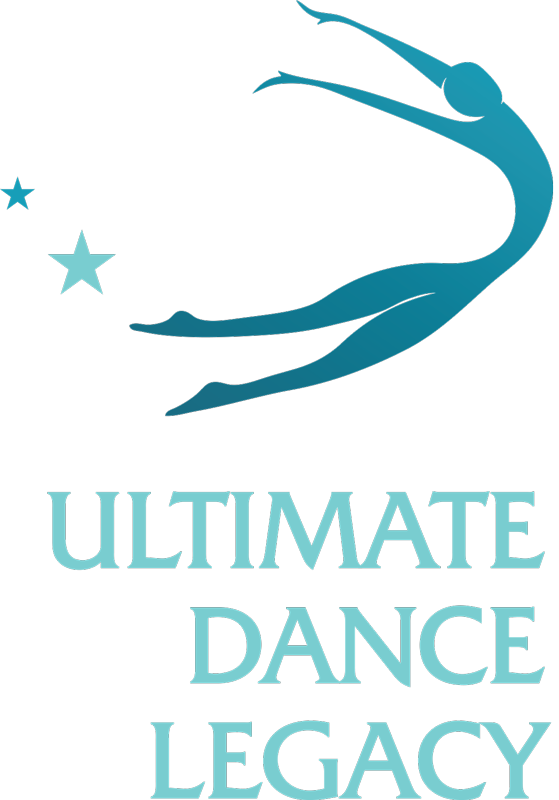 We offer all styles of dance ranging from Ballet, Pointe, Lyrical/Contemporary, Jazz, Hip Hop, Musical Theatre, Tap, Acrobatics/Flexibility, Hip Hop and combination classes. We promote a positive, creative atmosphere and challenge dancers of all ages to grow as individuals and performers. We are dedicated to bringing quality and affordable dance instruction to the tri-state community. We believe every dancer matters and we strive for them to reach their maximum potential!
Ballet
The foundation of all dance styles. Includes exercises at the barre and center floor. Jumps, leaps, and turns with fast footwork to create long lines, flexibility, endurance, and turnout.
Jazz
Sharper and a faster style of dance. Includes up-tempo music with kicks, leaps, turns, and combinations. Learn to isolate the body and more stylistic movement quality.
Tap
Practiced while wearing tap shoes. This style emphasizes on the importance of rhythm and syncopation while promoting musicality. Fast relaxed footwork is key.
Pointe
A ballet classes while using special blocked shoes that allows the dancer to dance on their toes. This is an advanced class for dancers while multiple years of ballet experience. Must exhibit strength and muscle controlled. Instructor approval is required to take this class.
Lyrical
Combines elements of ballet, modern, and jazz. Music is a key contributor to express the lyrics to promote the story being told through movement. Students must be enrolled in ballet to take this class due to the strong elements of ballet included in this class.
Musical Theatre
Fun and entertaining combinations set to popular Broadway and movie musicals like Hairspray and Mamma Mia. Dancers will not only work on style but also their performance skills through acting exercises.
Contemporary
This class is a style of expressive dance that combines elements of several dance genres including jazz, lyrical, modern and classical ballet. Contemporary dancers strive to connect the mind and the body through fluid dance movements. Contemporary dance stresses versatility and improvisation. With legato and staccato movement.
Hip Hop
Street styled dancing that involves popping and locking and isolated movements to popular hip hop music. This class is fast paced and athletic.
Creative Movement
Involves exercises to learn basic skills like hopping, skipping, jumping, and balance coordination with introductory elements of jazz, ballet, and tap.
Acro-Tumble
Controlled beginner tricks such as cartwheels, handstands, and backbends to improve flexibility, strength, and balance. With progression of hard skills such as back handsprings, back tucks, and side aerials.
Combination
This class combines ballet, tap, and jazz into one class and offers each genre with fun and age-appropriate music and skill. This gives the dancer an introduction to the basic dance genres.
Strength and Conditioning
Focusing on strength and muscle control needed to help dance skills and conditioning the body with stamina and the necessary skills needed to be successful in dance.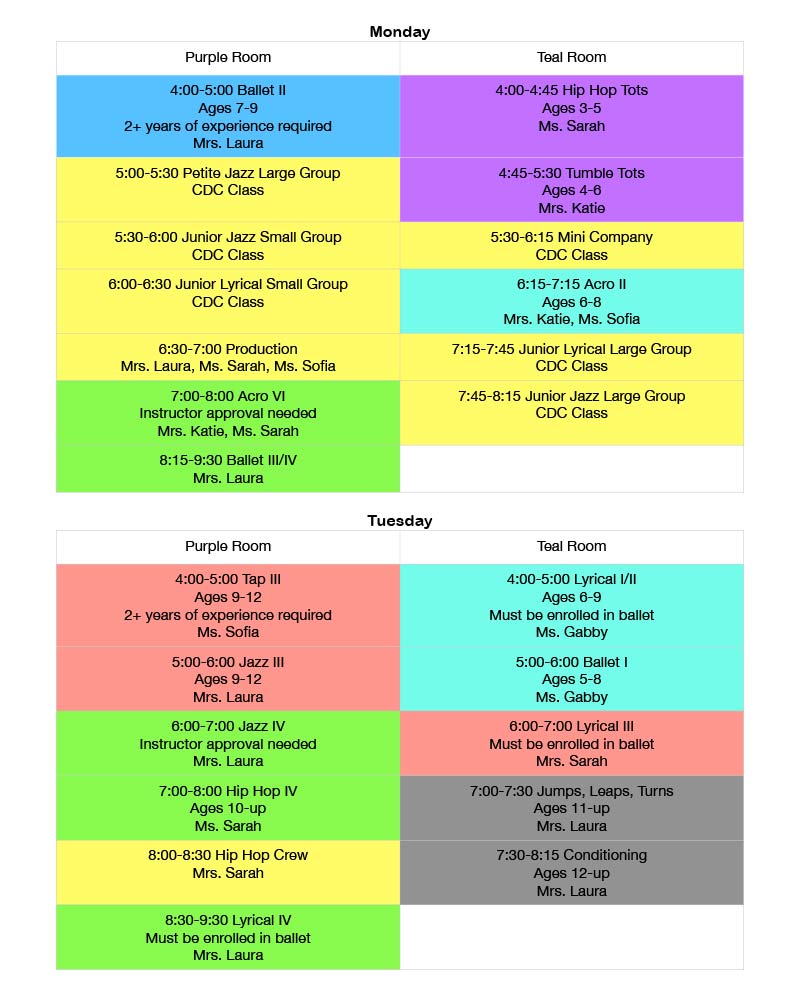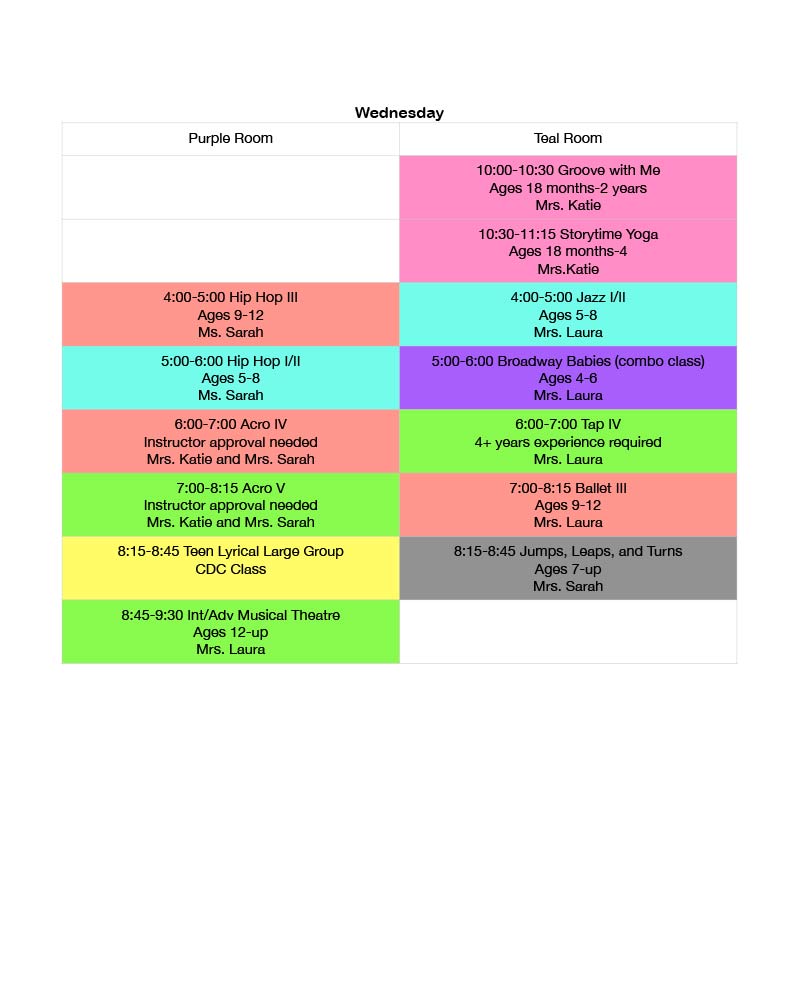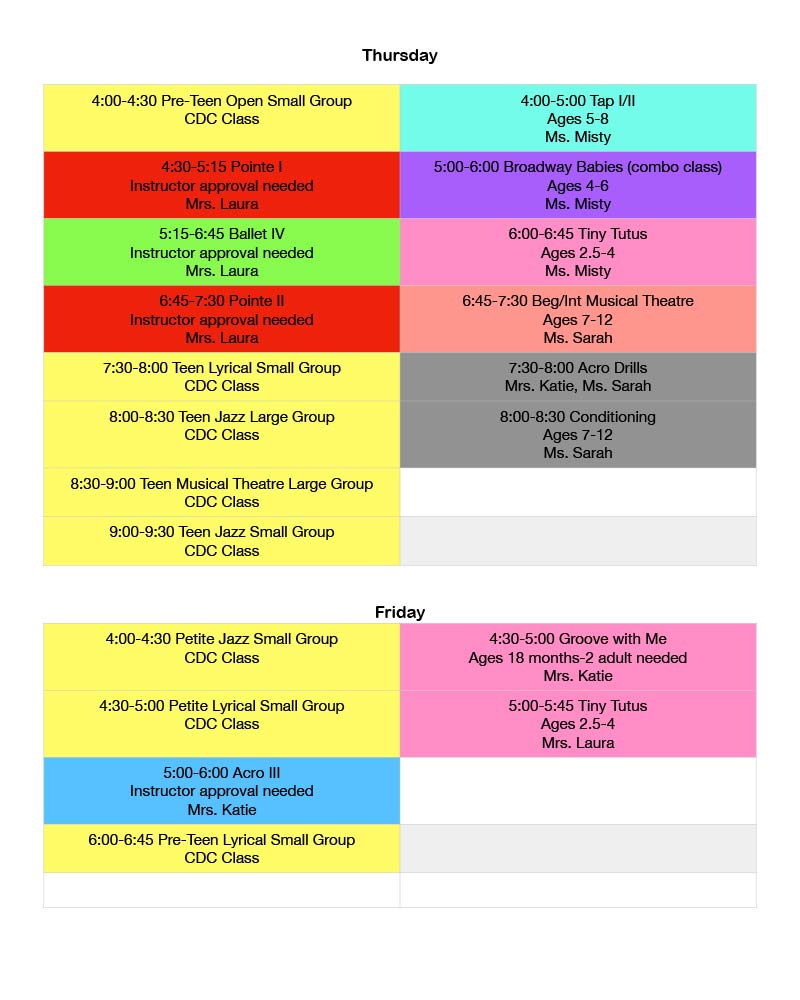 *All classes fill on a first come first serve basis
*Classes must have a minimum of 5 students in order to run
*In order to take Lyrical you must take ballet